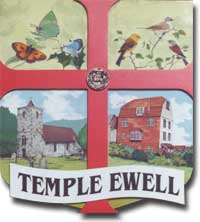 The Temple Ewell Newsletter is published in print ten times a year and is delivered free to every household in the village, proving an invaluable source of information about village life and activities.   Most of the funding for the Newsletter and this Website comes from our advertising.   Click here to find  local businesses and service providers 
 Click here for The Parish Council's Website
If you have anything that you wish to be included as an article or a local trade or group advertisement, please contact us
Read about the village of Temple Ewell here.
PRIVACY NOTICE dated 10th May 2018.
What information we collect when you advertise or send articles to us and why?
When you advertise or submit articles for entry into the Newsletter, you are entering into a contract with us.   So we can set this up we will ask you to provide some personal information such as;
full name
address
contact numbers
email address.
How do we use your information?
Data Protection says that we are allowed to use and share your personal data only where we have a proper reason to do so. The law says we must have one or more of these reasons and these are:
Legitimate Interests – this means the interests of the Temple Ewell Newsletter in managing our advertising to allow us to provide you with notice of when such adverts are due to expire and ask if you wish to renew.
Too enable us to send reminders of deadline dates for articles or adverts.
Legal Obligation – where there is statutory or other legal requirement to share the information e.g. when we have to share your information for law enforcement purposes.